Homepage
Company Profile

DOCK LEVELERS

Truck Restraints
Dock Lift Equipment

SEALS & SHELTERS

DOOR REPAIRS

SERVICE AREA

Request Info
Contact Us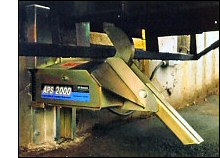 The new APS-2000 is a superior, impact-style trailer restraint that was developed specifically to reduce the occurrence of accidents at the dock. The new APS-2000 combines an advanced communication system with a low profile restraint carriage. It also has an impact extension bar that accommodates a wide range of lower rear impact guards. The low maintenance APS-2000 is a significant improvement to a light system or manual wheel chocks. The APS-2000 is durable and low in maintenance.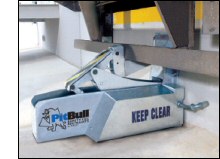 Pit Bull™ Safety-Loc® Vehicle Restraints

To guard against premature departure, trailer creep and trailer walk, Serco has designed the Pit Bull Safety-Loc Series. The Pit Bull has a bite that locks on tight, engaging a trailer's rear impact guard and securing it more effectively than rubber wheel chocks. Serco Pit Bull Safety-Loc restraints are most compatible with the new rear impact guards because of their non-impact, low-profile design.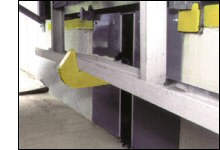 Serco SLP Recessed Restraint

The Serco SLP Restraint is a hydraulically actuated, recessed, non-impact restraint ideal for new construction or remodeling applications. The SLP is installed in a pit under the leveler and offers a clean dock face, allowing unobstructed access to smaller delivery vehicles, trailers with hydraulic lift gates and an open drive for unimpeded snow plowing or drive cleanup.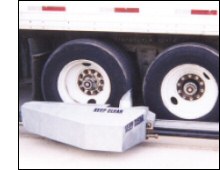 Safety-Chock™ Wheel Restraint

The Serco Safety-Chock secures trucks with a simple, effective, automatic wheel chock mounted above grade, allowing it to operate under the most extreme weather conditions. Because of its revolutionary design, the Serco Safety-Chock doesn't impede lift gate operation or interfere with the landing gear on pup trailers. Maintenance-free, self-lubricated guide bearings and no mechanical drive components to wear out.



Timbers - Kovar Company
7653 St. Clair Ave. • Mentor, Ohio 44060
Phone: (440) 951-1210 • Fax: (440) 951-4910
E-mail Us


---
Designed and maintained by: Web-Max, E-Mail Webmaster

Copyright © 2017 Timbers - Kovar Company. All rights reserved.