Homepage
Company Profile

DOCK LEVELERS

Truck Restraints
Dock Lift Equipment

SEALS & SHELTERS

DOOR REPAIRS

SERVICE AREA

Request Info
Contact Us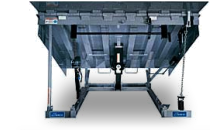 Our mechanical dock levelers are packed with innovative features like our patented Posi-Trac® hold-down and Hydra-Cam™ lip control. Each Serco W Series mechanical dock leveler is built with a tough 50,000 psi-rated, high-tensile steel deck and lip.

The deck is designed to compensate for canted truck beds while remaining flush to the dock floor, eliminating pinch points and forklift tire damage. Serco mechanical levelers are warranted to be one of the best investments you can make to enhance dock safety and productivity.
Features
High-tensile steel deck and lip, minimum 50,000 psi
Structural steel safety legs for free-fall protection
Anti-Interference Cam to limit leg interference
Patented Hydra-Cam lip extension holds the lip out at the top of its cycle. The lip remains yieldable throughout the operation
Posi-Trac hold-down provides unlimited float through leveler working range
Working-range toe guards (full-range optional)
Clean-Frame™ design for easy clean-up, maintenance and inspection
Integral deck maintenance strut with lock-out capability
Lip keepers secure leveler when overhead door is down
Unique oil-tempered chromium silicon steel extension spring counterbalance with single-point adjustment for easy routine maintenance
Timbers - Kovar Company
7653 St. Clair Ave. • Mentor, Ohio 44060
Phone: (440) 951-1210 • Fax: (440) 951-4910
E-mail Us
---
Designed and maintained by: Web-Max, E-Mail Webmaster

Copyright © 2017 Timbers - Kovar Company. All rights reserved.